DesignFOIL Meets Tiltrotors: I've just arrived at Larry Chapmans house in Northeastern Indiana, only five minutes from the Michigan border. Perched on a dinner table in front of me is one of the most amazing machines I've ever seen. Larry, a skilled RC helicopter pilot, has built a flying V22 Osprey from scratch. Let me repeat that: he built a flying tiltrotor! For almost a decade, he has built ever increasingly complicated VTOL aircraft and now he's built a scale Osprey using engineering methods. Today, on my drive back to Ohio from California, I've taken a detour here to meet Larry and see this machine.
In addition to DesignFOIL, Larry used a three-view of the full-scale Osprey to construct this RC model. Don't be fooled into thinking it's just a double-helicopter; this bird has actual tilting rotors with full helicopter-control heads. To top it off, it uses a unique connection system to synchronize both tip-mounted engines. If one engine cuts out, the other will transfer the load! Many of the mechanisms including the flap deployment and differential tilt are extremely unique and clever.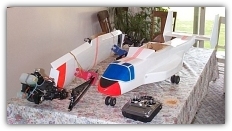 Using his experience in building RC aircraft, he made the fuselage not only to scale, but feather-light as well. His airfoil shapes were generated with DreeseCode Softwares' DesignFOIL. As far as I know, Larry has the only fully functional scale model of a V22 tiltrotor that flies. Several hover and flight tests were made in late 2001 and a full in-flight transition to airplane mode is scheduled for the Spring. Visit here to see Larry's own webpage which includes VIDEO of the flights!